So, I know this might come off as a little rude, and I know that people age..but I can't help but notice something.
When I see William Shatner in TOS, he looks athletic, handsome, and frankly, gorgeous!
Now, when I'm looking at him..I see none of the appeal I see in him forty years ago. Yes, I'm aware that people gain weight when they age, but c'mon, there's a difference between aging and aging gracefully.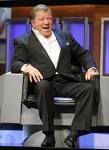 So, what happened?